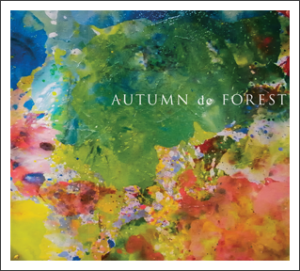 AUTUMN de FOREST
To look at abstract paintings by Autumn de Forest for the first time, one could easily imagine them on the walls of a contemporary art gallery. They display nicely balanced compositions and a fluid sense of movement.
Often painted with brilliant palettes—whether an expanse of watery blue slashed through with a horizontal band of purple in "Equator" or shadowy pink encroached on by clouds of creamsicle-toned pigments in "Pinkie"—the canvases emanate a sense of light. It could then come as a surprise that they were painted by a five year old.
Many children can make compelling, uninhibited works of art. But the consistency and dedication with which Autumn, now 13 and based in Las Vegas, has pursued painting is uncommon. She first expressed an interest in the medium at five when she saw her father staining wood in their garage and asked if she could mess around with the materials. The result, later titled "Plywood Rothko," indeed loosely echoes compositions by the Abstract Expressionist with its two atmospheric brown rectangular forms and sense of solid and void.
Her parents then began supplying her with canvases and paints and built a nook in the garage as her studio. There, Autumn has spent the bulk of her free time, letting her imagination run free across huge spaces, as she describes it.
Autumn has never had any formal art training. Early on she began a process of self-education through studying works by other artists in books, online and at museums. **Autumn is represented by Park West Gallery.
AUTUMN de FOREST  DEMONSTRATION VIDEO>>