WELCOME TO THE WORLD OF CAROLE SORELL INCORPORATED
A World of Difference in Public Relations
CSI is equally at home in the world of business and the world of art.
We know what art needs and make it our business to provide it.
We know what business needs and make an art of it.
-is in the way we view our client responsibility, in the way we operate and the way we are received by the press and media.
CSI has served a wide range of clients that include both small and large institutions, museums, performing arts groups, individual artists and performers, educational entities, foundations, businesses, corporations and government agencies both nationally and internationally.
CSI OFFERS SPECIAL EXPERTISE
In developing total promotional packages for projects in the fine and performing arts and entertainment areas.
WE ARE THE PREFERRED PUBLIC RELATIONS AGENCY
Of many major museums, performance groups and artists
WE HAVE THE FULL SERVICE CAPACITY to contribute to every aspect of an exhibition, performance or event. We can expertly:
Promote, book and traffic shows
Develop careers for visual and performing artists
Design and edit quality catalogues and programs
Handle all details of openings and previews
Deal appropriately with VIPs
Our writing proficiency is noteworthy for its accuracy, clarity, style and creativity.
WE ARE THE PREFERRED CONSULTANT AGENCY TO SPONSORS
seeking the right arts project to sustain and advance their marketing and visibility aims.
We attract:
Maximum press/media attendance
Broad participation by prominent social, cultural, political and business personalities.
WE OFFER COMPLETE COORDINATION with each business or corporation's structure and operations:
We seek full understanding of each client's goals
We develop promotional ideas consistent of each client's character, reputation and objectives
We work closely with each client's internal public relations, public affairs, corporate affairs and marketing department
HERE'S HOW WE OPERATE.
Carole Sorell is fully and personally responsible for all aspects of any project and has primary responsibility for all accounts, bringing in support staff as needed. All clients receive the full benefits of Sorell's years of professional experience.
In addition, our contacts in the art world and the media know that we only represent artists whose work is on the highest level. CSI has earned their respect over the years, and that will also carry considerable weight for our clients. In short, our press and informational kits are read by the people to whom we send them. They know who we are, so our materials are not considered to be just another press release or artist's submission.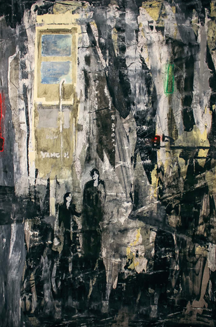 Autumn de Forest,
Times Square, 2010,
48" X 36", acrylic on canvas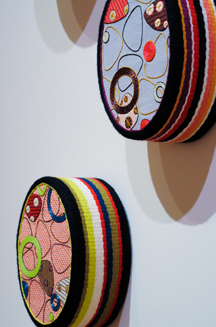 Joyce Melander-Dayton
Theme and Variation" (detail), 2009, 70" X 44" X 7", gatorboard, silk, wool, cotton and beads. Photo credit: Wendy McEahern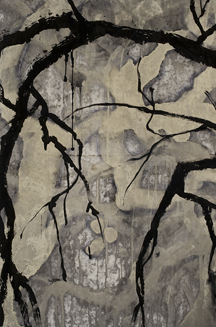 Eliza Thomas
Oak Study 1", 2010. 48" X 36" X 2", Acrylic medium and ink on rice paper, mounted on panel. Photo Credit: Christopher Zaleski