ERICK HAWKINS
A phenomenon called Erick Hawkins is coming your way in February, with a company of brilliant dancers, all new music commissioned from the best of living American composers… and a rollicking new dance based on tall tales about George Washington concocted by an itinerant preacher which have become unshakable American folklore.
Are you ready to take this phenomenon on… and into the homes of your readers (viewers) (listeners)? It will be a richly rewarding experience for you and for them.
What makes Erick Hawkins phenomenal?
He was Martha Graham's husband and leading male partner – and Balanchine's first star choreography protégé … yet he is considered by many to be even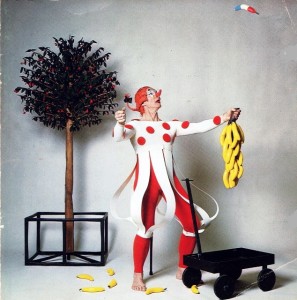 more highly original and inventive than these two titans of 20 century dance.
Performed to a commissioned score by Virgil Thomson, the new Hawkins work continues the spirit of the Bicentennial Year and is offered by the company as a unique Washington's Birthday present to students and residents in Santa Barbara.
Joel Thome, Music Director/ Conductor of Orchestra of Our Time and the Hawkins Company's resident conductor, will lead Bay Area musicians in the performances. The vividly colored construction paper sets, costumes and face pieces, capturing the childlike, legendary quality of the work, were designed by Ralph Dorazio, Ray Sais and Ralph Lee.