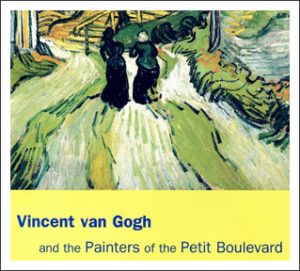 VINCENT van GOGH AND THE PAINTERS OF THE PETIT BOULEVARD
Dear Editor,
"Oh no, not another van Gogh show!"
The Saint Louis Art Museum exhibition, Vincent van Gogh and the painters of the Petit Boulevard – February 17, 2001 – May 13, 2001 – presents a different look at the great artist.
You see Vincent van Gogh the painter in Paris, Arles, St. Remy, and Auvers in the late 1880s eagerly searching out his place among the emerging avant-garde. Van Gogh the friend, the colleague…
Who sometimes worked side – by –side with fellow artists and began a dream of a communal studio of modern painters. Who passionately joined with Gauguin, Signac, Toulouse-Lautrec, Seurat, Angrand, Anquetin, Bernard and the Pissarros in discussing and debating new ideas, which ultimately became the shape and substance of modern art in Europe.
Vincent van Gogh and the Painters of the Petit Boulevard explores the concept of the French avant-garde in the late 1880s from the perspective of Vincent van Gogh and his role among the various circles of the Paris avant-garde. The exhibition of more than 70 works takes a new look at van Gogh's time in Paris.
Calling them "the painters of the petit boulevard" for their departure from the ideas of the impressionists that he identified with the Grand Boulevard.